Electric Azimuthing Propulsion Pods
Marine Propulsion Solutions is a leading manufacturer of Electric Podded Thruster and Propulsion Systems, with units operational for over 15 years with our sales & marketing offices located in Singapore and production facilities in Batam.
We would like to introduce our "Unique" Azimuthing Permanent Magnet Electric Propulsion Drives for your interest and PT. Marine Propulsion Solutions (MPS) is the only thruster company offering a large electric propulsion and manoeuvering product using New PMM & Drive Technology.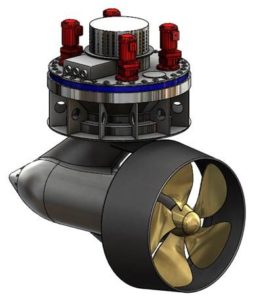 Electric Podded Azimuthing Main Drives rated from 150 Kw up to 3,000 Kw
MPS offers complete systems that include the thruster system, electric motor drives (VFd's + AFE's) Main Switch Boards and Full integrated Bridge Controls. We offer DC Grid Technology and Variable Speed Generator Sets (Shaft Drives) to maximize performance, fuel economy and total RELIABILITY.
We have successfully installed and launched various thruster systems word -wide. This includes main propulsion thrusters, bow and stern thrusters, retractable thrusters and special custom built projects for military and civil applications.
Marine Propulsion Solutions through-hull Electric Podded Drives are engineered products of European design based on the latest marine propulsion technologies, ANSYS Finite Element Analysis and the most modern manufacturing technologies available. They are of very heavy duty design and incorporate many unique features to optimize reliability, longevity and easy maintenance.
Owner/Operator benefits:
Propeller speed is independent of engine speed leading to better maneuverability
Increased propulsion system efficiency
Increased propulsion system redundancy and power availability
Reduced total installed power generation
Reduced noise & vibration levels
Power Management
Shipyard & Construction benefits:                  
Flexible machinery arrangement
Modularized design
Simpler vessel machinery installation
Simpler hull form and structure
Azimuthing Electric Podded Propulsion System – Specifications
Model
Units
A200E
A275E
A350E
A500E
A850E
A1000E
A1200E
A1500E
A2100E
A3000E
Continuous Torque
MdaN
200
300
480
860
1950
3400
4100
7000
9000
13300
Continuous Power
Kw
Hp
200
268
275
368
350
470
500
670
850
1140
1000
1340
1200
1610
1500
2010
2100
2815
3000
4021
Prop Dia Rev speed
MM
RPM
1100
580
1175
540
1250
500
1400
450
1750
360
1925
325
2300
265
2475
250
2800
215
3450
180
The MPS Propulsion Group
Marine Propulsion Solutions, a member of the global MPS Propulsion Group and is a world leader in marine electric podded thruster and propulsion technology. Coordinated through its headquarters in Batam Indonesia, MPS Propulsion provides engineering and manufacturing from its various plants located in Singapore and Batam.
"One Source Solution"