Ship Shape
"Stay on course with PT. Marine Propulsion Solutions"
DECK MOUNTED AZIMUTHING PROPULSION DRIVES
Steerable Deck Mounted Propulsion Modules
(Electric Driven)
Load Sharing / Power Management
PT. Marine Propulsion Solutions introduces a New Series of electric driven….. Azimuthing Deck Mounted Propulsion Modules that include the diesel-genset, AC/DC Grid Technology that allows variable speed gen-sets that operate to keep engine rpm and load constant……. maximizing fuel efficiency and power performance.
Dynamic Positioning Systems
The Genset RPM is directly related to engine load (In-Built Power Management System) and variable from zero to full rpm and compatible for Dynamic Positioning Systems for Cable/Pipe Laying Barges etc.
Complete Package with diesel engine
Fully remote operated
Package shall consist of the following scope of supply:
MPS Rudder Propeller Unit (with diesel gen-set)
In-Built Fuel Tank
AC/DC Converted (Keeps constant DC Voltage regardless of Genset rpm)
Inverter Technology for DC/AC Motor Controller
integrated Hyd-Drive (for azimuthing & raise/lower control)
Hydraulic Power Unit
Main Frame for the following:

Mounting of Rudder Propeller Unit & Diesel Gen-Set
Mounting of Hydraulic Power Unit
Mounting of Converter/Inverter Modules

Electric Control Module for RPU
Electric Control Module for Diesel Gen-Set
Bridge Mounted Control Station to operate the Rudder Propeller Unit
Steerable Deck Mounted Electric Azimuthing Propulsion "L" Leg Modules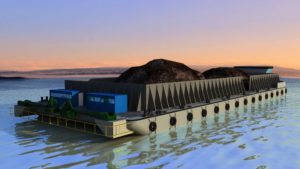 Especially deigned for vessels that require deck or stern mounted propulsion systems, the PT. Marine Propulsion Solutions Deck Mounted Rotatable Electric Propulsion Systems combines full Maneuverability with effective azimuthing propulsion.  The system is ROBUST with little required maintenance and is… RUTHLESSLY RELIABLE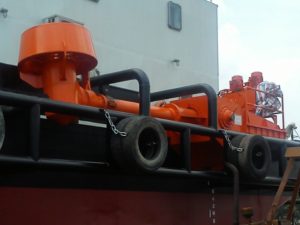 The MPS Propulsion – Deck Mounted, Rotatable Propeller L-Drives are available from 175 Kw up to 2500 Kw are of a very heavy duty construction, offering 360 degree continuous steering in either rotation, built-in, Podded Electric Thruster units offers high thrust performance in a very efficient and compact drive package. The Electric Podded Thruster is controlled with a variable frequency (VFD) motor controller for full speed control.
The unit incorporates our unique transmission kick-up device which is specifically designed for protection in shallow
SIMPLE INSTALLATION
Installation is fast and simple, since the Deck Mounted Propulsion Drives merely has to be bolted onto a foundation prepared by the shipyard. Thus every kind of floating object can easily become motorized. The System is characterized by its wide variety of applications.
The MPS-Marine Thruster Systems Deck Mounted, Steerable Propeller Drives units are of a very heavy duty construction, offering full 360 degree steering in either rotation, diesel driven hydraulic pump system (azimuthing control) offers high thrust performance in a very compact drive package.
Designed for on-deck mounting, all assemblies are incorporated on a substantial fabricated steel chassis to provide a completely self-contained marine propulsion system ready for immediate installation.
ADVANTAGES
Self-contained propulsion package
Compact unit
For virtually any watercraft
Fast installation
Easy maintenance
Full 360 degree steering
Powerful unit
Download Brochure