Ship Shape
"Stay on course with PT. Marine Propulsion Solutions"
DECK MOUNTED ELECTRIC STEERABLE PROPULSION DRIVES
WITH VARIABLE RPM GEN-SETS FOR OPTIMAL FUEL SAVINGS
LOAD SENSING DRIVES
POWER MANAGEMENT WITH MULTIPLE DRIVES
DYNAMIC POSITIONING CAPABILITIES
The Deck Mounted Electric Rotatable Propeller Drive Units come complete with Diesel Gen-Set (Radiator or Water Cooled), Mounting Frame, Electric Inverters(with PWM control), Enclosure, Drive Units and electric load sensing drive module and full set of Bridge controls.
Deck Mounted Electric/Diesel Driven Rotatable Propeller Drives with optional Height Adjustment and 75 degree tilt capability, ranging from 200kw up to 1500Kw complete with Diesel Gensets Drive, accessories and full sound proof enclosure ….. A Complete Drive Package
PROPULSION :
Steerable Deck Mounted Propulsion Modules
The MPS Propulsion Group Steerable Electric Deck Mounted Propulsion Systems can be mounted at the rear end of the base frame or supplied as a separate module from the Genset frame and can be raised or lowered in vertical direction by means of a depth adjustment facility. This serves to ensure maximum propeller thrust with all vessel draughts by maintaining the correct propeller immersion.
For maintenance purposes, the unit can be tilted to the rear /or sideways using hydraulic lifting devices. The propeller is equipped with either an anti-cavitation plate to protect it from damage, or with a nozzle, if higher bollard pull is required.
SIMPLE INSTALLATION
Installation is fast and simple, since the Deck Mounted Electric Propulsion Drives merely has to be bolted onto a foundation prepared by the shipyard. Thus every kind of floating object can easily become motorized. The System is characterized by its wide variety of applications.
The MPS-Marine Thruster Systems Deck Mounted, Electric, Steerable Propeller Drives units are of a very heavy duty construction, offering full 360 degree continuous steering (optional). The permanent magnet electric motor is designed as an integral part of the thruster hub and thereby eliminating the reduction gear sets required in other mechanical drives….. less noise, maximum efficiency and greater reliability in either rotation, offers high thrust performance in a very compact drive package. The hydraulic transmission is (vertical height adjustment + unit raised positions) diesel genset engine driven through the PTO.
The unit incorporates our unique transmission kick-up device which is specifically designed for shallow water or beaching applications and protects the transmission from unknown underwater hazards.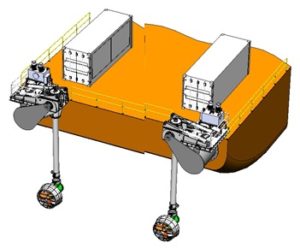 Designed for on-deck mounting, all assemblies are incorporated on a substantial fabricated steel chassis to provide a completely self-contained marine propulsion system ready for immediate installation.
ADVANTAGES
Self-contained propulsion package
Compact unit
For virtually any watercraft
Fast installation
Easy maintenance
60-0-60° maneuverability (optional 360 degree full azimuthing)
Powerful unit
Optional Features Offered
• Full 360 degree Azimuthing Control as described
• Retractable/Tilt Feature and Raise/Lower Control
• Nozzle Assemblies with 316 SS Propeller Liners..
AC/DC GRID-DISTRIBUTION :
The MPS AC/DC-distribution system allows variable speed generators with constant dc grid output, which increases fuel efficiency and allows for higher exhaust temperatures. High exhaust temperatures are vital for the exhaust catalyser to operate correctly. Reduced running speeds, for the diesel engines, allows for increased service intervals and reduced on-board noise whilst operating on low power output. The AC/DC Grid concept eliminates HARMONICS which can often interfere with DP Systems.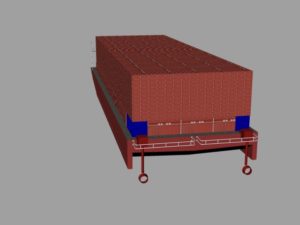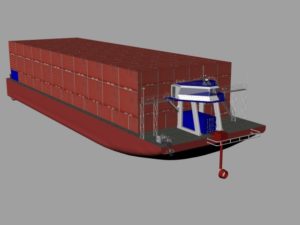 ENVIRONMENT IMPACT :
NO emission requirements and penalties have already been introduced into the marine industry. Tougher regulations usually require more expensive solutions. The DC Ring-Net Solution is different and suitable for submarine operation in a good way!
Marine Propulsion Solutions – introduces a series of Variable Speed Permanent Magnet Generator Sets breaking new grounds in efficiency, low weight yet ruggedly built with enhanced reliability. Permanent Magnet generators are dedicated to delivering reliable power on board in a small efficient package.
MPS Generating Sets of the series DCi Generators at variable speed have been designed and implemented to solve the problems of low efficiency and high maintenance.
Thanks to a permanent magnet generator (PMG), an electronic management and an AC/DC converter, the Generating DCi works always in rpm to maximize the intervals maintenance and reduce the noise , with stable voltage and low output ripple.
MPS Generating Sets of the series DCi Generators in variable speed are recommended for those applications where peak power is considerable higher than the average load, achieving a save of fuel and maintenance of approximately 40% compared to a traditional Generating Sets.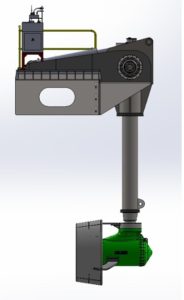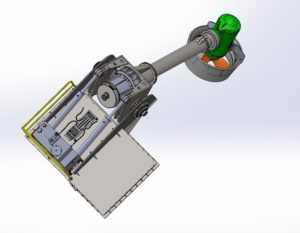 SIDE OR TRANSOM MOUNTED
FULLY STEERABLE OR AZIMUTHING
SWING / TILT TO THE 75 DEGREE UP POSITION