Hybrid Propulsion System
Complete electric solutions including control software
PT. Marine Propulsion Solutions is recognized as one of the worlds leading Thruster and Propulsion Systems Manufacturer and introduces its unique Series of Standard and Azimuthing pumpjets for all types of Marine vessels.
Converter Technology
Inverter Technology
DC Grids
PM Gensets
---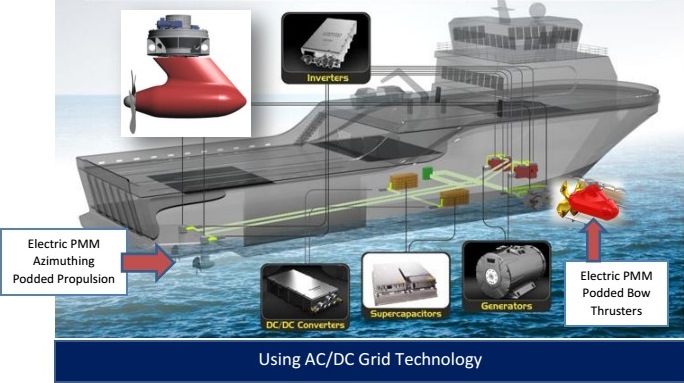 MPS engineers can design and have developed a unique electric drivetrains specifically for marine propulsion purposes. We didn't adapt existing generators and VFD's for marine use, we designed our technology from the ground up to ensure maximum efficiency at real world load speeds. MPS's liquid-cooled propulsion drive systems are engineered to operate in harsh environments, built mechanically strong, from components designed in-house with high IP-classes and permanent magnet motor technology.
Our powertrains are suitable for hybrid and electric systems within the power range of 25 kW to 2,000 kW.
Weight and Volume savings up to 50%
Higher efficiencies
Eliminates the AC Switchboard
Utilizes New Battery Technologies
Shaft Drives (Variable speed gensets with constant dc grid voltages).
MPS-PM generators
For superyachts PM Gen-Sets deliver reliable power on board luxury yachts and manufactured in the range from 55 ekW/50 HZ upto 760 ekW/60 HZ.
Features
Low noise performance because of advanced designed sound enclosures. ·
Customization with use of modular designs.
Our standard generator sets come with an extensive list of options. We can modify each standard package into a tailored alternative.
In our standard build, we use A-brand components such as PM designed alternators and CoMap controllers, which ensure reliability to the end user and availability of spare parts.
Criteria for design and component selection include reliability, long service life, and ease of installation, ease of maintenance as well as aesthetics and modern materials.
Electric Ferry Systems
Custom electrification solutions
Marine Propulsion Solutions' system design consists of replacing the diesels with Lithium Iron Phosphate battery, which is charged from the city's utility grid using the Power MASTER active front-end units and a Power BOOST DC/DC-converter. During normal operation, the battery and DC/DC-converter provide power for the ships electric propulsion units, consisting of Power MASTER inverters and MPS propulsion motors, and the ships 440 Vac three-phase electric grid created with Power MASTER inverters and LCL-filters.
The ferry can also be equipped with one 175 kW diesel generator that are be used as range extenders when needed. In this case the diesel generator feed the ships 440 Vac grid, and the micro-grid unit is switched to operate as AFE to provide power for the propulsion units.
All of this is completed with a new inverter technology. MPS's sophisticated software coordinates power flow, allowing Power MASTER to perform different power conversion tasks depending on how it is controlled.
The vessels' propulsion system has been designed around the principles of maximum efficiency, inbuilt redundancy, high reliability and low operating costs. Each vessel will be equipped with four azimuth thrusters powered by permanent magnet motors.
The shore terminals can be arranged with a system that allows for automatic mooring such that the power to the thruster units can be reduced to zero when the vessel is in the berth.
Automatic systems ensure consistent behavior during the journey and hence predictable energy consumption.
The automatic crossing system ensures safe and energy-efficient transit back and forth by automatically controlling the vessel's acceleration, deceleration, speed and track. Two energy-efficient MPS Azimuthing thrusters respond adaptively to environmental conditions to ensure optimal behavior and maximize efficiency.
The Captain will supervise the automatic system and intervene using traditional maneuvering systems if needed. In the first delivery, the Captain will maneuver the ferry manually the last few metres to the dock. The next iteration of this product will extend the system to allow automatic berthing.
If the Captain is not, for some reason, able to take manual control, the system stops the vessel at a safe distance from the quayside and keeps it safely positioned automatically until further action can be taken.
The Automatic Crossing System can be developed with the company's Ship Intelligence programme and will help the customer meet their contractual needs to ensure predictable energy consumption optimized for varying environmental conditions.
The Automatic Crossing System can be installed as an add-on to any standard ferry using Azimuthing thrusters.
Liquid cooled heavy duty inverter
GENERAL
The Power MASTER is a heavy-duty inverter series designed especially for electric or hybrid electric drive trains for mobile work machines or marine vessels.
Typical applications are:
Controlling the speed and torque of electrical traction motors
Converting alternating current (AC) from electrical generator to direct current (DC) for energy storage
Active Front End for connecting to AC grid with regenerative power and low harmonic
The Power MASTER features:
Extremely compact design – 300 kW unit only 15 kg
High enclosure class IP67 – sealed from moisture and dust
Liquid cooled with plain water or water/glycol mixture
Ambient temperature up to +105 ºC and down to -40 ºC
Allowed coolant temperature up to +65 ºC
Robust design withstanding high levels of mechanical vibrations and shocks
Designed especially for highly cyclical loads typical in heavy mobile work machines
Software features:
2x Isolated CAN ports supporting CANopen and SAE J-1939 protocols
Possibility to create customer specific applications with CODESYS (IEC61131-3) software tool
High performance vector control for both induction and permanent magnet motors with or without sensor
Speed and Torque reference motor control
Generator control mode for DC-link voltage control
Maximum torque per ampere working point optimization
Wide selection of protective functions
Active front end (AFE) and microgrid software available
Resolver angle sensor input
SAE J-1939 diesel engine control through CAN
Download Brochure