AUV Propulsion Modules
MPS SubSea – offers a unique "Series" of AUV Propulsion Thrusters, designed as off-the-shelf Propulsion Units providing the AUV builder, a "major building block" for efficient and reliabable propulsion.
The AUV Propulsion Thrusters utilizes a very efficient thruster assembly, and controllers mounted in a lightweight aluminum Housing. To control the thruster and have a feedback of its working factors you need to select a communication protocol. There are three options CAN bus, RS485, and analog. CAN bus and RS485 are bidirectional and mostly used for applications where noise and reliability are important operational factors.
With these options, you can have closed loop control of the thruster and continuously monitor vital factors of thruster health including motor temperature, motor RPM and rated current. Analogue option is one-way communication between thruster and controller. By a simple +/-10v, you can control the thruster.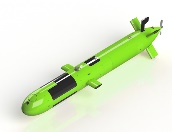 The AUV Modular APM is complete with the following major components.
A Standard Complete Modular designed unit
Main AUV Propulsor
Electronic Control Package for simplified integration of Propulsion, Control and Communication.
Subsea Connectors
A Modular design approach for the AUV manufacturer offering the basic building block…

Higher Power options, special configurations and voltages offered – please contact MPS
Brushless DC Electric AUV Propulsion & Fin Control Modules
Download Brochure