Subsea Trencher Jetter Arms
Tool Design and Testing:
Marine Propulsion Solutions designs and manufactures Jetting Arms for Trencher Vehicles and has supplied equipment to Cable Laying Companies.
Units are tested within our test facilities with Initial tests involving single jet tests to evaluate the effect of various jets and power levels. The discharge coefficients (Cd) of the jets are also evaluated.
From these tests a jet array can be offered and devised…. capable of cutting to 1.5m depth in 50 to 80kPa clay. Measurement of jet pressure (knowing the jet Cd) allows the jet power to be evaluated and hence the power required for the tool.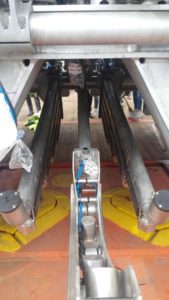 Trench testing with the mock-up tool will allow changes in the jet size, jet angle and jet separation to be fully evaluated before the tool design is finalized. The mock-up also will allow the spacing of the jetting "swords" to be adjusted to evaluate the maximum width of clear trench achievable.
"Wash" jets will be added as part of the complete module, running at low pressure and high flow, to enhance the tool's ability to clear debris from the trench. These jets will also be used to trench in soft soils and free running sand, and to keep disturbed material "fluid".
The tool will be optimised for a trench 1.5m in 50 to 80kPa soils with a flow rate of up to 7000l/min at a pressure of up to 10.5 bar.
The "wash" jets will operate at up to 40,000l/min at up to 2.5 bar.
Having established the optimum jet arrangement, the tool design will be completed. This requires that the conflicting parameters of minimum tool width (to avoid needing to cut a wide trench than necessary), minimum tool side area (which restricts steering), minimum weight, maximum strength and minimum flow loss in the tool.