Electric Podded Rotatable & Retractable APU Propulsors for Midget and Regular Submarine Systems
Marine Propulsion Solutions, part of the MPS Group of companies is recognized as one of the world's leading Electric Podded Pressure Compensated / Oil Filled Auxilliary Propulsion Units (APUs) for Manned Submarines and manufactured from 25Kw up to 175Kw with Subsea Positioning interface capability.
Oil Filled / Pressure Compensated
MPS Propulsion Electric Podded Propulsion Systems "Wet Systems" are designed for maneuvering assist with/without Kort type nozzles or for close harbor maneuverability or tactical positioning. They use fixed pitch propellers either with nozzles or propeller shrouds.  The units are usually individually controlled by full follow-up joysticks that control the propeller speed (rpm) from zero to full rpm through the VFD controller (air or water cooled).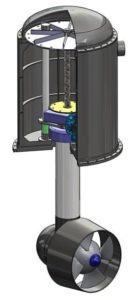 They are pressure compensated to allow installation in the "Wet" section of the submarine and therefore not in the pressure hull section.
Ease of Installation with reduced costs…
With the electric motor designed as part of the thruster pod and water cooled, there are no requirements for forced air ventilation of the electric motor, no shafting requirements for couplings and alignments…..
Noise Suppression Technology…
Because the electric motor is designed as an integral part of the thruster hub and attached directly to the propeller shaft, there are no gears boxes or gear reductions providing maximum system efficiency with lower noise and vibration levels produced.
Meets or exceeds Mil-S-901D Shock Specifications…
Designed For
Manned Submersibles
The Marine Propulsion Solutions (MPS) Retractable/Azimuthing Electric thruster Systems combines full Maneuverability with effective propulsion during those difficult periods of slow speed maneuvering or dynamic positioning. The system is ROBUST with little required maintenance and is … RUTHLESSLY RELIABLE