Ship Shape
"Stay on course with PT. Marine Propulsion Solutions"
DECK MOUNTED AZIMUTHING PROPULSION DRIVES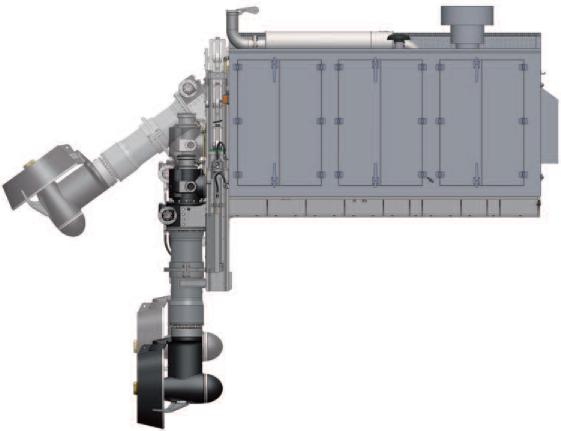 Direct Engine Driven
The equipment offered consisting of a Deck Mounted Steerable Propeller Drive Units complete with Diesel engine, Mounting Frame, Cardan Shafting and full set of Bridge controls.
Deck Mounted Diesel Driven Steerable Propeller Drives ranging from 200kw up to 1500Kw complete with Diesel Drive, accessories and optional full sound proof enclosure ….. A Complete Drive Package for deck mounting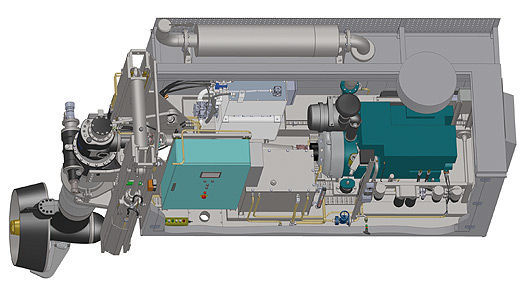 PROPULSION:
Steerable Deck Mounted Propulsion Modules (Direct Engine Driven)
The PT. Marine Propulsion Solutions Steerable Deck Mounted Propulsion Systems are mounted at the rear end of the base frame.
The propeller is equipped with either an anti-cavitation plate to protect it from damage, or with a nozzle, if higher bollard pull is required.
SIMPLE INSTALLATION
Installation is fast and simple, since the Deck Mounted Propulsion Drives merely has to be bolted onto a foundation prepared by the shipyard. Thus every kind of floating object can easily become motorized. The System is characterized by its wide variety of applications.
The MPS-Marine Thruster Systems Deck Mounted, Steerable Propeller Drives units are of a very heavy duty construction, offering full 360 degree steering in either rotation, right angle lower gear drive with diesel driven hydraulic pump system offers high thrust performance in a very compact drive package.
The diesel engine offers full rpm control with high quality cardan drive shaft in the stem into the heavy duty transmission and fitted with a high thrust propeller.
Designed for on-deck mounting, all assemblies are incorporated on a substantial fabricated steel chassis to provide a completely self-contained marine propulsion system ready for immediate installation.
ADVANTAGES
Self-contained propulsion package
Compact unit
For virtually any watercraft
Fast installation
Easy maintenance
Full 360 degree steering
Powerful unit
Complete Package with diesel engine
Fully remote operated
Package shall consist of the following scope of supply: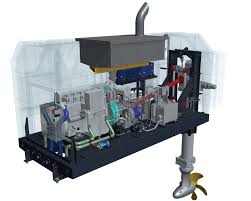 MPS Rudder Propeller Unit (with diesel engine)
Line Shafting
Couplings
Clutch with integrated Hyd-Drive
Hydraulic Power Unit
Main Frame for the following:

Mounting of Rudder Propeller Unit
Mounting of Hydraulic Power Unit
Mounting of Clutch Assembly

Electric Control Module for RPU
Electric Control Module for Diesel Engine
Bridge Mounted Control Station to operate the Rudder Propeller Unit