PumpJet Thruster Systems for Shallow Draft Vessels
PT. Marine Propulsion Solutions is recognized as one of the worlds leading Thruster and Propulsion Systems Manufacturer and introduces its unique Series of Standard and Azimuthing pumpjets for all types of Marine vessels.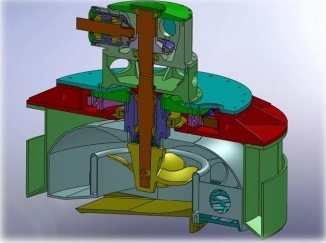 Owner/Operator benefits:
The PumpJet System is mounted with no vulnerable parts protruding past the ship's hull. They will provide full thrust for both shallow and heavy draft vessels, are simple and therefore reliable with extended life.
Emergency steering when there is no steerageway, or rudder damage.
During those periods of Emergency produced by groundings or collisions… high winds or severe currents, the Azimuthing PumpJet Thruster System can still be used as a complement to the rudder or in severe cases provide backup propulsion.
Increased propulsion system redundancy and power availability
Reduced noise & vibration levels
Shipyard & Construction benefits:
Flexible machinery arrangement
Modularized design
Simpler vessel machinery installation
Simpler hull form and structure