TUG BOAT PROPULSION INNOVATION PROPULSION SYSTEMS CUTS EMISSIONS
Propulsion systems have become one of the most important aspects of tug design as owners need more power from their workboats for maneuvering larger ships in confined spaces.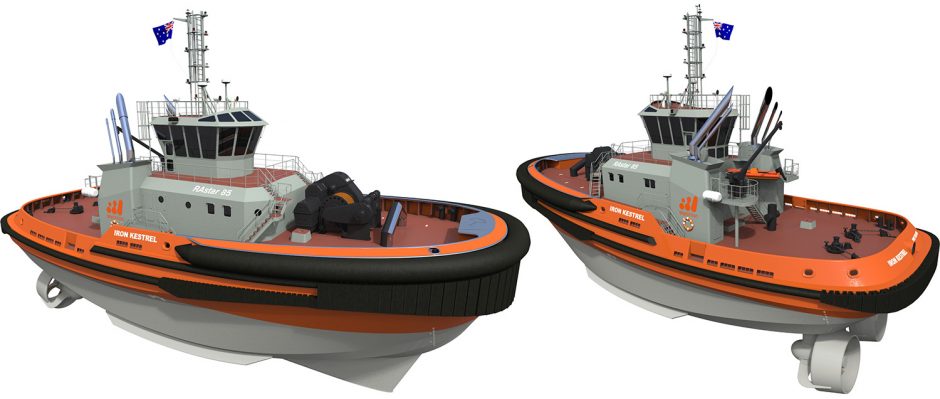 With this in mind, new propulsion options have been developed that deliver greater power, better maneuverability and improved energy efficiency. Traditional propellers still have a role to play in tug design, construction and operations, but thrusters have become one of the main elements of many modern designs. With two or three thrusters, tugs are able to turn a full 360o in ever-more tight circles, which is increasingly important for ship handling operations in harbors and terminals. PT. Marine Propulsion Solutions has developed an integrated L-Drive compact and efficient electric propulsion device with a permanent magnet (PM) motor.
The unit does not have geared transmission, meaning that it generates less noise, while the electronically-controlled drive and water-cooled PM also contribute to noise reduction, since there is no gear transmission in the tug. The unit is designed for workboats and is available with nozzle or counter-rotating propellers delivering power ranging from 175 kW to 2,500 kW. The PM motor is 40-60% more compact than an asynchronous motor. This is integrated into the thruster and housed inside the vessel.
These are important design requirements for workboats that have little spare capacity for equipment and shallow draughts. The minimal mounting height allows the thruster to be fitted below deck height, so that few vulnerable capital assets are underwater. Using a PM motor improves the propulsion unit's efficiency, particular during part-load conditions when compared with an asynchronous motor. They are 6% more efficient when the thruster are operating at 25% load.
The PT. Marine Propulsion Solutions CRP-M SERIES of Azimuthing Dual Contra Rotating eliminates the problem of the single propeller inducing a rotating motion in its own wake. This reduces the efficiency of the propeller. In order to recover this energy two propellers behind each other are used on concentric shafts, also called as CRP and are driven by specifically designed permanent magnet motors design as an integral art of the Propulsor hub. The ship's Captain controls vessel speed by controlling the lead propeller speed with MPS software controlling the trailing propeller speed….. The result being to optimize propeller efficiencies regardless of vessel speed with efficient, silent and vibration free propulsion.
Features
---
MPS Propulsion introduces the Azimuthing Dual Prop-Contra Rotating Permanent Magnet Electric Propulsion Drive. The two propellers rotate in opposite directions and the pitch and loading of the propellers are designed such that the resulting rotational energy in the wake is zero. To reduce shaft vibrations the numbers of blades of both propellers are different, so that not all blades pass each other simultaneously. The diameter of the front propeller is often slightly larger than that of the rear propeller, to account for the contraction of the propeller wake and to avoid the rear propeller to hit the tip vortex of the front propeller.
Because the rotational losses are recovered by the rear propeller this makes it possible to reduce the rotation rate and thus the frictional losses without increasing the rotational losses. A CRP has a lower rotation rate and the increase of efficiency from a single propeller can be as high as 15%.
Advantages
---
The propeller-induced heeling moment is compensated (negligible for larger ships).
More power can be transmitted for a given propeller radius.
The propeller efficiency is usually increased.
Higher efficiencies at the higher speed ranges
Using permanent magnets a simplistic drive with no gears or gearboxes required
Increased reliability
Maximizes fuel economy

These studies demonstrated that energy storage systems can significantly reduce emissions during most tug operations but will need to be combined with diesel-based power generation until the price and efficiency of batteries has fallen.
Another conclusion was the efficiency of using PM motors and induction motors with batteries was similar at full loads. However, the PM motor maintains high efficiency down to very low loads whereas an induction motor's efficiency drops away. Therefore, a PM solution can save on battery capacity as tugs only need small amounts of time at their maximum load rating.
PT. Marine Propulsion Solutions L-DRIVE BENEFITS Compact design: extremely low mounting space requirements High efficiency Minimal noise production Low weight Outstanding maneuverability due to the 360o thrust Electric motor inside the ship means few vulnerable components underwater Simplified installation and no need for a slip ring cabinet…… No gear transmission